สูตรเล่นบาคาร่า นายหัว_ล็อกอินเกมยิงปลา_@ไลน์ฟรีเครดิต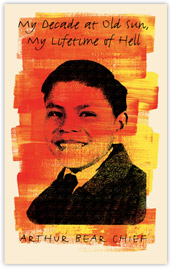 Book Club
Are you interested in the work of reconciliation? Join community group RISE as they read and discuss books about reconciliation. Arthur Bear Chief's My Decade at Old Sun, My Lifetime of Hell is their current selection.
"A courageous memoir and a must-read for everyone brave enough to learn about residential schools. It's a tough read—triggering and horrific—but it is also laced with light and the power of culture, language, family, traditions, and learning to trust and try again. I am in awe of Arthur's bravery and his resiliency in the sharing of his story. I have no doubt that that this book will lead to conversation, acceptance, and understanding. It is a life's work and one to be proud of."
—Richard Van Camp, author of Night Moves
"In straightforward prose, Arthur Bear Chief testifies to his years in an Alberta residential school and the painful legacy it imprinted on him and his loved ones. With both humour and heartbreak he calls out his abusers, the harsh reality of the claims process, and his own internalized racism. Bear Chief also speaks with pride and hope when he tells of his efforts to reclaim his Blackfoot language and culture and heal from his traumas for the sake of his grandchildren. It is important for Canadians to bear witness to all these stories of survival."
—Danielle Metcalfe-Chenail, editor of In This Together: Fifteen Stories of Truth and Reconciliation
"There is nothing more compelling in the work of truth and reconciliation than hearing the first-hand voices of those who lost their childhoods growing up in Canada's residential schools. Arthur Bear Chief's voice has just been added to that list . . . raw, graphic, and compelling. No two residential school survivor stories are the same, each one bringing us to a deeper understanding of our country and our past failings. Reading this will help you consider our present-day responsibilities and our collective opportunities to set things right."
—Dr. Marie Wilson, Commissioner, Truth and Reconciliation Commission of Canada, 2009–2015
About the Book
My Decade at Old Sun, My Lifetime of Hell is a simple and outspoken account of the sexual and psychological abuse that Arthur Bear Chief suffered during his time at Old Sun Residential school in Gleichen on the Siksika Nation. In a series of chronological vignettes, Bear Chief depicts the punishment, cruelty, abuse, and injustice that he endured at Old Sun and then later relived in the traumatic process of retelling his story at an examination for discovery in connection with a lawsuit brought against the federal government.
He returned to Gleichen late in life—to the home left to him by his mother—and it was there that he began to reconnect with Blackfoot language and culture and to write his story. Although the terrific adversity Bear Chief faced in his childhood made an indelible mark on his life, his unyielding spirit is evident throughout his story.
About the Author
Arthur Bear Chief left Old Sun Residential School at the age of seventeen. He initially worked at Shingwauk Indian Residential School as a student counsellor, before embarking on a career with the government, which included work with the Public Service Commission of Canada in Edmonton and Northern Affairs in Ottawa. He now lives on the Siksika Nation.
Available for download is the transcript of Arthur Bear Chief's examination for discovery that was recorded in 2002 as part of a case that Mr. Bear Chief brought against the Attorney General of Canada and William Starr as well as third parties the General Synod of the Anglican Church of Canada and the Missionary Society of the Anglican Church of Canada.
"... a remarkable example of Indigenous storytelling and proof of the lingering psychological damage of residential schools on their survivors. . . . These [the appendixes] push conversations concerning residential schools into several arenas, offering readers a more complete view of the schools' operations and legacy than previously published."
—Center for Great Plains Studies