เว็บพนันบอล ต่างประเทศ_เกมคาสิโนออนไลน์_คาสิโน มาเก๊า ที่ไหนดี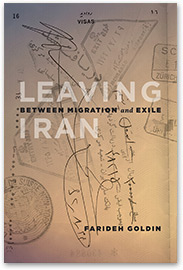 About the Book
In 1975, at the age of twenty-three, Farideh Goldin left Iran in search of her imagined America. She sought an escape from the suffocation she felt under the cultural rules of her country and the future her family had envisioned for her. While she settled uneasily into American life, the political unrest in Iran intensified and in February of 1979, Farideh's family was forced to flee Iran on the last El-Al flights to Tel Aviv. They arrived in Israel as refugees, having left everything behind including the only home Farideh's father had ever known.
Baba, as Farideh called her father, was a well-respected son of the chief rabbi and dayan of the Jews of Shiraz. During his last visit to the United States in 2006, he handed Farideh his memoir that chronicled the years of his life after exile: the confiscation of his passport while he attempted to return to Iran for his belongings, the resulting years of loneliness as he struggled against a hostile bureaucracy to return to his wife and family in Israel, and the eventual loss of the poultry farm that had supported his family. Farideh translated her father's memoir along with other documents she found in a briefcase after his death. Leaving Iran knits together her father's story of dislocation and loss with her own experience as an Iranian Jew in a newly adopted home. As an intimate portrait of displacement and the construction of identity, as a story of family loyalty and cultural memory, Leaving Iran is an important addition to a growing body of Iranian–American narratives.
"Farideh Goldin, a Jew from Iran, immigrated to the United States as a young woman—an alien in her own country who was now doubly alienated. Meanwhile her family, still in Iran, had to abandon their belongings and escape to Israel amid the Revolution of 1979. In a riveting contrapuntal narrative, Goldin tells of her own struggles and those of her father, whose memoir she translates here: a harrowing account of his return to Iran and bleak years of entrapment there. A unique perspective on one of the great cultural upheavals of the last century."
—Blake Bailey, author of Cheever: A Life
About the Author
Born in Shiraz, Iran to a family of dayanim, Farideh Goldin now lives in Virginia and is the director of the Institute for Jewish Studies and Interfaith Understanding at Old Dominion University. Goldin is a frequent lecturer and presenter on Iranian culture. Her first memoir, Wedding Song: Memoirs of an Iranian Jewish Woman was published in 2003.
Download the eBook
Copyright: This work is licensed under a เกมส์ยิงปลาออนไลน์Creative Commons License (CC BY-NC-ND 4.0). It may be reproduced for non-commercial purposes, provided that the original author is credited.
---
Select a Chapter
Front Matter
Prefatory Note and Acknowledgements
Preface
1. 1975, Portsmouth, Virginia
2. February 1979, Israel, Kiriat Sharet
3. Baba: September 1980, Tel Aviv
4. October 1980, New Orleans
5. Baba: 1981, Tehran
6. 1982–83, Chesapeake
7. Baba: 1983, Shiraz
8. 1983–84, Chesapeake
9. Baba: 1983–84, Shiraz
10. 1984, Chesapeake
11. Baba: 1984, Tehran
12. 1984, Chesapeake
13. Baba: 1984, Rome
14. December 1984, Norfolk
15. Baba: 1985–86, Tel Aviv
16. Baba: 1987, Philadelphia
17. 1987, Portsmouth
18. Baba: 1987, Shiraz
19. 1987, Portsmouth
20. 1989, Nags Head
21. 1991, Portsmouth
22. Baba: 1992, Shiraz
23. 1992, Norfolk
24. Baba: 1992, Shiraz
25. 1966, Shiraz
26. Baba: 1992, Shiraz
27. 1993, Norfolk
28. Baba: 1994, Tel Aviv
29. 1994, Baltimore
30. Baba: 2003, Holon
31. 2002–03, Norfolk
32. 2005, Tel Aviv
33. 2006, Norfolk
34. Baba: December 2006, Holon
"Self-descried as a work of creative non-fiction, Leaving Iran, draws heavily from the memoirs of Esghel Dayanim (Baba), the author's father, translated from the Persian and very tastefully molded into a factually accurate narrative. […] Leaving Iran, both physically and psychically, is a gripping work. Supplementing Wedding Song, there is additional catharsis. However, the more mature perspective is reflective of the 13 years between books. In 2003, Farideh Goldin was revealed as a rare talent. We looked forward then to more from her. That hope and expectation is not diminished."
—Hal Sacks, Jewish News
"Farideh told her family's story in detail, without cancelling out her father's voice, but letting the reader see the heights she has reached. Her voice combines the worlds she has faced, accepting and rejecting aspects of each and maturing as she finds herself and her impressive means of expression."
—Renée Levine Melammed, Nashim