ดูบอลสด_เครดิต ฟรี ถอน ได้ ไม่ ต้อง ฝาก_โบนัสฟรี 500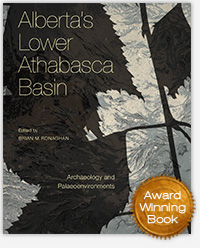 Awards
Winner of the 2018 BPAA Scholarly and Academic Book of the Year Award
About the Book
Over the past two decades, the oil sands region of northeastern Alberta has been the site of unprecedented levels of development. Alberta's Lower Athabasca Basin tells a fascinating story of how a catastrophic ice age flood left behind a unique landscape in the Lower Athabasca Basin, one that made deposits of bitumen available for surface mining. Less well known is the discovery that this flood also produced an environment that supported perhaps the most intensive use of boreal forest resources by prehistoric Native people yet recognized in Canada. Studies undertaken to meet the conservation requirements of the Alberta Historical Resources Act have yielded a rich and varied record of prehistoric habitation and activity in the oil sands area. Evidence from between 9,500 and 5,000 years ago—the result of several major excavations—has confirmed extensive human use of the region's resources, while important contextual information provided by key ecological and palaeoenvironmental studies has deepened our understanding of how the region's early inhabitants interacted with the landscape.
Touching on various elements of this rich environmental and archaeological record, the contributors to this volume use the evidence gained through research and compliance studies to offer new insights into human and natural history. They also examine the challenges of managing this irreplaceable heritage resource in the face of ongoing development.
About the Editor
For more than twenty years, Brian M. Ronaghan served in a research and regulatory compliance role with the Government of Alberta, most recently as director of the Archaeological Survey. Over the course of his career, he was involved in regulatory approval processes for major developments, undertook consultations with Indigenous groups and industry organization, and developed historical resource management policy. His interests principally reside in the areas of archaeological field and analytical methods and in conservation management.
Contributors
Alwynne B. Beaudoin, Janet Blakey, Luc Bouchet, James A. Burns, Grant M. Clarke, Gloria J. Fedirchuk, Timothy G. Fisher, Duane G. Froese, Eugene M. Gryba, John W. (Jack) Ives, Raymond J. Le Blanc, Murray Lobb, Thomas V. Lowell, Brian O. K. Reeves, Elizabeth C. Robertson, Brian M. Ronaghan, Laura Roskowski, Nancy Saxberg, Jennifer C. Tisher, Stephen A. Wolfe, Robin J. Woywitka, Robert R. Young, Angela M. Younie
Download the eBook
Copyright: This work is licensed under a เกมส์ยิงปลาออนไลน์Creative Commons License (CC BY-NC-ND 4.0). It may be reproduced for non-commercial purposes, provided that the original author is credited.
---
Select a Chapter
DownloadFront Matter
DownloadTable of Contents
DownloadIntroduction: The Archaeological Heritage of Alberta's Lower Athabasca Basin
Brian M. Ronaghan
Part One: Postglacial Environments
Download1. A Tale of Two Floods: How the End of the Ice Age Enhanced Oil Sands Recovery—and Decimated the Fossil Record
James A. Burns and Robert R. Young
Download2. Glacial Geology and Land-Forming Events in the Fort McMurray Region
Timothy G. Fisher and Thomas V. Lowell
Download3. Raised Landforms in the East-Central Oil Sands Region: Origin, Age, and Archaeological Implications
Robin J. Woywitka, Duane G. Froese, and Stephen A. Wolfe
Download4. Kearl Lake: A Palynological Study and Postglacial Palaeoenvironmental Reconstruction of Alberta's Oil Sands Region
Luc Bouchet and Alwynne B. Beaudoin
Part Two: Human History
Download5. The Early Prehistoric Use of a Flood-Scoured Landscape in Northeastern Alberta
Grant M. Clarke, Brian M. Ronaghan, and Luc Bouchet
Download6. A Chronological Outline for the Athabasca Lowlands and Adjacent Areas
Brian O. K. Reeves, Janet Blakey, and Murray Lobb
Download7. Lower Athabasca Archaeology: A View from the Fort Hills
Robin J. Woywitka
Download8. The Early Human History of the Birch Mountains Uplands
John W. Ives
Part Three: Lithic Resource Use
Download9. Beaver River Sandstone: Characteristics and Use, with Results of Heat Treatment Experiments
Eugene M. Gryba
Download10. The Organization of Lithic Technology at the Quarry of the Ancestors
Nancy Saxberg and Elizabeth C. Robertson
Download11. Microblade Technology in the Oil Sands Region: Distinctive Features and Possible Cultural Associations
Angela M. Younie, Raymond J. Le Blanc, and Robin J. Woywitka
Part Four: Archaeological Methods
Download12. Quarries: Investigative Approaches in the Athabasca Oil Sands
Gloria J. Fedirchuk, Jennifer C. Tischer, and Laura Roskowski
Download13. Cumulative Effects Assessment: Evaluating the Long-Term Impact of Oil Sands Development on Archaeological Resources
Brian M. Ronaghan
DownloadList of Contributors
DownloadIndex of Sites
DownloadGeneral Index
"Numerous scholars authored more than a dozen intensely focused papers, but the volume's introduction and organization—as well as limited but effective repetition of parts of the overall narrative in individual papers—ensure that a cogent story emerges out of a wide-ranging discussion of events spanning 10,000 years. [...] An example of the excellent topical publishing tradition apparent in Canadian universities. This volume may appeal to an overwhelmingly academic audience that is mostly resident in North America, but it will certainly do so for decades to come."
—Center for Great Plains Studies