บอลต่อรอง_เครดิต ฟรี 500 ถอน ได้_เล่นบาคาร่าให้ได้เงิน pantip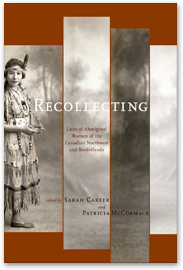 Awards
Winner of the 2012 Willa Literary Award in the area of Scholarly Nonfiction, presented by Women Writing the West.
Winner of the 2012 Best Book in Aboriginal History Prize presented by the Canadian Historical Association.
Winner of the 2012 award for Best Scholarly and Academic Book presented by the Book Publishers Association of Alberta.
Winner of the 2011 Armitage-Jameson Prize presented by the Western History Association and the Coalition for Western Women's History.
About the Book
Recollecting is a rich collection of essays that illuminates the lives of late-eighteenth-century to mid-twentieth-century Aboriginal women, who have been overlooked in sweeping narratives of the history of the West.
Some essays focus on individuals—a trader, a performer, a non-human woman. Other essays examine cohorts of women—wives, midwives, seamstresses, nuns. Authors look beyond the documentary record and standard representations of women, drawing on records generated by the women themselves, including their beadwork, other material culture, and oral histories. Exploring the constraints and boundaries these women encountered, the authors engage with difficult and important questions of gender, race, and identity. Collectively these essays demonstrate the complexity of "contact zone" interactions, and they enrich and challenge dominant narratives about histories of the Canadian Northwest.
About the Editors
Sarah Carter is Professor and Henry Marshall Tory Chair in both the Department of History and Classics and the Faculty of Native Studies at the University of Alberta. Her most recent books are The Importance of Being Monogamous: Marriage and Nation Building in Western Canada and Montana Women Homesteaders: A Field of One's Own.
Patricia A. McCormack is Associate Professor in the Faculty of Native Studies at the University of Alberta. Her research focuses on Aboriginal peoples of the northwestern Plains, northern Canada, and Scotland, in the contexts of the fur trade and the expansion of state. She has published extensively about Fort Chipewyan, including a new book to be published shortly by UBC Press.
Download the eBook
Copyright: This work is licensed under a Creative Commons License (CC BY-NC-ND 2.5 CA). It may be reproduced for non-commercial purposes, provided that the original author is credited.
---
Select a Chapter
DownloadFront Matter
DownloadTable of Contents
DownloadList of Illustrations
DownloadAcknowledgments
DownloadMap of the North American West
DownloadLifelines: Searching for Aboriginal Women of the Northwest and Borderlands
Sarah Carter and Patricia A. McCormack
PART ONE: Transatlantic Connections
Download1. Recovered Identities: Four Métis Artists in Nineteenth-Century Rupert's Land
Susan Berry
Download2. Lost Women: Native Wives in Orkney and Lewis
Patricia A. McCormack
Download3. Christina Massan's Beadwork and the Recovery of a Fur Trade Family History
Alison K. Brown, with Christina Massan & Alison Grant
PART TWO: Cultural Mediators
Download4. Repositioning the Missionary: Sara Riel, the Grey Nuns, and Aboriginal Women in Catholic Missions of the Northwest
Lesley Erickson
Download5. The "Accomplished" Odille Quintal Morison: Tsimshian Cultural Intermediary of Metlakatla, British Columbia
Maureen L. Atkinson
Download6. Obscured Obstetrics: Indigenous Midwives in Western Canada
Kristin Burnett
PART THREE: In the Borderlands
Download7. Sophie Morigeau: Free Trader, Free Woman
Jean Barman
Download8. The Montana Memories of Emma Minesinger: Windows on the Family, Work, and Boundary Culture of a Borderlands Woman
Sarah Carter
PART FOUR: The Spirit World
Download9. Searching for Catherine Auger: The Forgotten Wife of the W?htik?w (Windigo)
Nathan D. Carlson
Download10. Pakwaciskwew: A Reacquaintance with Wilderness Woman
Susan Elaine Gray
PART FIVE: Challenging and Crafting Representations
Download11. Frances Nickawa: "A Gifted Interpreter of the Poetry of Her Race"
Jennifer S.H. Brown
Download12. Blazing Her Own Trail: Anahareo's Rejection of Euro-Canadian Stereotypes
Kristin L. Gleeson
DownloadNotes
DownloadList of Contributors
DownloadIndex
"Sarah Carter and Patricia McCormack unsettle the dominant, white-settler narrative of Canadian history while also contributing in a unique way to the genre of women's historical biography."
—Prairie Forum
"… an exciting new collection that spans over 200 years of Canadian history…. The central themes are primarily the negotiation of fluid identities within a changing and dynamic context and the importance of looking beyond the archive to recover what, the authors argue, lies beyond the colonizing gaze. […] Recollecting provides a thoroughly readable trove of information and includes some useful illustrations of many of the individuals and of some of the handiwork under discussion. The well-researched articles as a whole, remind us as researchers to seek diligently to capture voices present in objects, in stories, and in recollections not found in any traditional textual archive."
—The Canadian Historical Review
"This collection's introduction and twelve articles can quite rightly be seen as one grand recovery mission, a giant step toward increasing dramatically the complexity of western/colonial history through the lives of Aboriginal women."
—Western Historical Quarterly
"The fact that the best essays rely not on journals or books written by women (which would thus make them elite and somewhat unusual) but on varied sources that discuss them or that they left behind, such as dictated reminiscences, makes these articles more thought-provoking and impressive. Even when the book focuses on more famous representatives, such as Catherine Auger, Frances Nickawa, or Anahareo, the essays present them as multidimensional figures who changed over time and embraced and rejected cultural norms."
—Montana, The Magazine of Western History
"As we continue to learn from the Delgamuukw v. British Columbia land-claim case--in which an orally recited, ancient, and sacred indigenous genre of lineage history was, in effect, put on trial, dismissed as insubstantial and inferior to written records, but eventually admitted, in 1997, as acceptable evidence in a Canadian court—there are many constructions of 'history' in Native societies, all likely to be contested, and all requiring nuanced understanding of context for interpretation. Comprehending these contexts holistically...requires an inclusive vision in order to see the intimate linkages among community oral traditions, written expressions of personal experience, forms of material culture that communicate memories intergenerationally, and their relationships to conventional documentary sources. The detailed, innovative, and transdisciplinary approaches represented in Recollecting give historians some valuable examples of how to conduct research across the many borderlands of the Aboriginal past and in the process give voice to those long silenced—something oral historians do so well."
—Robert E. Walls, University of Notre Dame
"More than emphasizing an active role for Aboriginal women in history, Atkinson, Barman, and their fellow contributors offer highly readable biographies showcasing hybridity, resiliency, contradictory historical experiences, and, above all, the diversity of Aboriginal women's identities."
—BC Studies