เล่นเกมยิงปลาได้เงินจริง_สล็อต แจก เครดิต ฟรี ไม่ต้องฝาก 2560_คาสิโนออนไลน์ ฟรีเงิน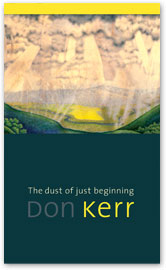 Awards
Don Kerr has been named Saskatchewan's new poet laureate. His?term will run from January 1 to December 31, 2012. For more information, click here.
The dust of just beginning by Don Kerr was shortlisted for Saskatchewan Book Award for Poetry. For more information on the 2010 awards, click here.

About the Book
Don Kerr knows prairie culture better than most―he knows it from the inside out. He has made us aware of ourselves through his numerous volumes of poetry, his fiction, his many plays, his histories, and his interest in heritage. In this mature, accomplished collection, we can once again admire his unique prairie voice―minimalist, self-effacing, direct yet subtle and nuanced, immersed in his love of the vernacular language of this place. His line is muscular, his timing impeccable, his broad strokes with so few words exemplary.
About the Author
Don Kerr is the author of numerous poetry collections, plays, and short stories. He served on the Saskatoon Public Library Board for eleven years, and as chair for five of those years. He was the first chair of the Saskatoon Heritage Society and the first chair of the Saskatoon Municipal Heritage Committee. He was also the Saskatchewan governor for the Heritage Canada Foundation. He lives in Saskatoon.
"Kerr's latest is beautifully designed, & full of sharp wit & the (necessary?) awareness of passing time & mortality that comes with age. ... Kerr writes a vernacular open form that moves with ease across literary class lines, but always seeing clearly from below." [read full review]
—Douglas Barbour, Eclectic Ruckus blog
"[The poems] display the perspective of a writer who's lived a good while, a keen consciousness of the body's frailty, capriciousness, and inevitable decline, but also a strong sense of the body's beauty." [read full review]

—Joanne Epp, Prairie Fire Review of Books, Vol. 11, No. 1 (2011)