แจกโบนัสทดลองเล่นฟรี_เว็บไซต์คาสิโน_เกมยิงปลาที่เล่นง่ายที่สุดในโลก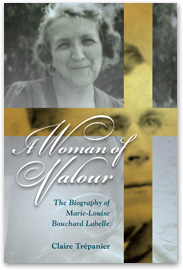 About the Book
A Woman of Valour is the biography of Marie-Louise Bouchard Labelle, a French-Canadian woman who found love with a priest thirty-three years her senior. Against all social convention, they lived, produced three children, and built a life together after fleeing their village.
However, after several years together, Bouchard's husband ultimately chose to return to the priesthood, abandoning his family as a result. Through interviews and documentation, Claire Trépanier tells Bouchard's story of survival while highlighting the history of women's stature in Canada, and raising a question about the celibacy of Catholic priests.
About the Author
Claire Trépanier lives in Ottawa. Her interest in travel, teaching, and international development led her to participate in the conception and co-creation of the TV series Gens d'ici, Gens d'ailleurs, which aired on TCV Outaouais from September to December 1999. A Woman of Valour is a testimony to her admiration of women's resilience, courage, and dynamic spirit.
Interviews with Claire Trépanier, Gertrude Mantha, Louise Mantha
"[Claire Trepanier] has listened carefully and well to the unspoken words, actions, and perhaps more importantly to the inaction of Marie-Louise ... [She] engages the readers in Marie-Louise's life with her insightful and empathic reporting of the events."
—Marcelle Paliekara, http://secretlovernomore.yolasite.com
"Claire Trépanier engages the readers of Marie-Louise's life with insightful and empathic reporting of the events. . . . Trépanier doesn't paint a portrait of a victim, but that of a triumphant soul who faces each challenge with courage and determination." —Marcella Paliekara, Wisconsin, U.S.A.
"I have devoured Claire's book – what a poignant story: Marie-Louise was a very brave woman – indeed 'A Woman of Valour'!" —Jessie Weldon-Gibb, Ottawa, Canada
"I couldn't put [this book] down. The thoughts stay with you, even though it was about ordinary people…. [It] causes a stir among people who read it." —Barbara Dane, Massachusetts, U.S.A.
"Just finished [this] book and I think it was simply marvellous. I found it very well written and most interesting." —Carol Chaytor, Ottawa, Canada
"I loved Marie-Louise.? It almost feels when you look at the photo her beautiful face on the cover that you can see into her soul….My respect for her is boundless that she was able to take this secret to her grave."?—Mickey Gain, Aurora, Canada
"I am not ashamed to say, I shed a few tears when Marie-Louise died. Thank you for this wonderful book." —Pat Frey, Pennsylvania, U.S.A.
"I am filled with tons of emotion, and so many feelings?at the strength and courage this woman had, at never revealing her broken heart to anyone….It is an incredible story…. I felt transported back to a time when my own French grandparents from Quebec must have lived through hardships that we will never know about." —Nola Carman, Ottawa, Canada