บ้านบอลวันเสาร์_สล็อต แจก เครดิต ฟรี ไม่ต้องฝาก 2560_เกมที่กำลังฮิตตอนนี้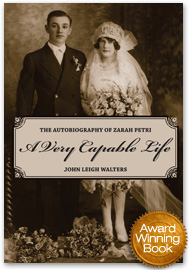 Awards
Speaking on behalf of this year's jury, Laurier associate professor Tanis MacDonald said, "Walters offers the story of his mother's journey from Hungary to Canada as a feminine picaresque with the indomitable Zarah in the dual roles of heroine and storyteller. In recreating his mother as a resourceful and often hilarious character, Walters' sustained act of literary ventriloquism captures the ingenuity and passion of the diasporic narrative in Canadian cultural history."
A reception for Walters will take place November 10 at 7:30 p.m. in the Paul Martin Centre on the Waterloo campus of Wilfrid Laurier University.
About the Book
Written in his mother's unique voice, John Leigh Walters pushes the boundaries of memoir in A Very Capable Life, the extraordinary journey of a seemingly ordinary woman.
Zarah Petri was a child when her family left Hungary to establish a new life in Canada in the 1920s. With courage and innovation, Zarah and her family survived the Depression―even if it meant breaking the law to do so. In celebrating Zarah Petri, A Very Capable Life pays homage to all "ordinary" women of the early twentieth century who challenged society's conventions for the sake of survival.
About the Author
John Leigh Walters spent a lifetime writing, producing, and hosting television programs in both the United States and Canada. Notably, with Metropolitan Opera star Vivienne Della Chiesa, he co-hosted a daily television talk show on WLW-TV in Cincinnati, Ohio. More recently he produced and hosted interview programs on the CTV outlet in the Waterloo, ON. He lives in Kitchener, ON.
Download the eBook
Copyright: This work is licensed under a Creative Commons License (CC BY-NC-ND 2.5 CA). It may be reproduced for non-commercial purposes, provided that the original author is credited.
"John Leigh Walters doesn't hide the fact he wrote his mother's autobiography. But he could have. The Kitchener man tells the story of the 'very capable' Zarah Petri in such a convincing first-person voice that many readers would not have been the wiser."
—Jon Fear, The Record, April 23, 2010